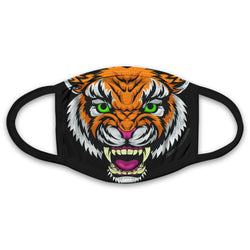 CLOTH FACE MASK - Mandy Tiger
IN STOCK NOW!
Dual-layered, reusable, washable, cloth face masks help save lives!

The CDC is advising the use of simple cloth face coverings to slow the spread of the virus and help people who may have the virus and do not know it from transmitting it to others.
IMPORTANT PLEASE READ This face mask is NOT 100% preventative — no mask is — and it is NOT intended to be a surgical mask or medical respirator. In addition to wearing a cloth face mask when out in public, other best practices during this time include social distancing, frequent hand washing, and self-isolating if you are sick (or think you may be sick).

Details:
These cloth face masks are made from a polyester blend, and attach around the ears. An adjustable silicon buckle is included. They do not have a filter pocket. Made in the USA
Tips: 
-Wash your mask daily if worn in public places like the grocery store or anywhere you are in close contact with others
-Add an extra layer when possible. The more layers the better.