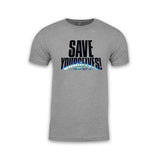 Save Yourselves! - Earth Fill Title Tee
SAVE YOURSELVES!, the hilarious sci-fi comedy voted #1 by the Legion M Film Scouts at Sundance Film Festival 2020 is now available on all platforms! Add this tee to add to your collection and warn others. Unisex cut, comes in white and grey body colors.
This item is made on demand andåÊmayåÊtake up to 7-10 extra business days to ship out.
åÊ