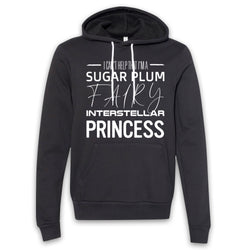 ARCHENEMY - Sugar Plum Statement Hoodie
"It's just the way I am!" This Archenemy tee features our favorite quote from Indigo "I can't help that I'm a sugar plum fairy interstellar princess" -- which is just so relatable. 100% cotton, standard sizing, super comfy with front handwarmer style pockets, black colorway, unisex pullover hoodie.
This item is made on demand and may take up to 7-10 extra business days to ship out.