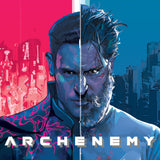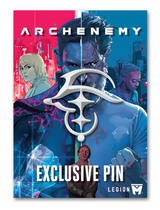 ARCHENEMY - Official Screening and Release Party
VIRTUAL EVENT
TIME: SUNDAY DEC 13TH, 5PM - 9PM PST
LOCATION: YOUR LIVING ROOM
Alamo Drafthouse, Legion M, SpecreVision and RLJ cordially invite you to join the cast, crew, producers and investors for the official ARCHENEMY screening and release party!
Standard Ticket Includes:
World famous Alamo pre-show
Live Introduction/Toast
Alamo On Demand showing of ARCHENEMY in the Scener virtual theater (U.S. Viewing Only)
Q&A with star Joe Manganiello and director Adam Egypt Mortimer, moderated by legendary film critic Elvis Mitchell
Alamo/Legion M/RLJE Films 8-bit After Party hosted on Gather
VIP Ticket ALSO includes:
11"x17" Archenemy poster autographed by director Adam Egypt Mortimer
Limited Edition TRENDIBLE Logo pin produced EXCLUSIVELY for this event
NOTE: Items will ship in early January
WHAT IS AN 8-BIT AFTERPARTY?!?

Pick your avatar, walk the red carpet, and enter an 8-bit world of wonder crafted with love by the amazing Alamo Drafthouse events team. Your going to want to get dressed up (at least from the neck up -- this is virtual after all so nobody will ever know if you are wearing pants), turn on your webcam and explore an 8-bit recreation of the world famous Alamo Highball. Mingle with friends, watch live events, hang out in a private room, or hop on stage for a bit of Karaoke. 
It's kind of like if Zoom and The Legend of Zelda had a baby then went away for the weekend putting Alamo Drafthouse in charge of babysitting. If that sounds like fun to you, then YOU ARE GOING TO LOVE THIS!