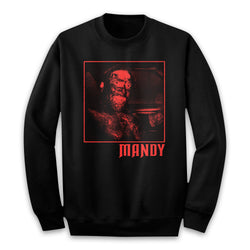 MANDY - Red Miller Psychosis Sweater
Get you someone who looks at you the way Red Miller looks at Mandy at the end of the film. From the cult classic film MANDY, this sweater features art of Red Miller from the final scene of the movie when Red Miller sees the love of his life in the passenger seat next to him - giving us arguably the best facial expression of the movie. 100% cotton, black pullover sweater, standard sizing.
100% OFFICIALLY LICENSED & APPROVED BY NICOLAS CAGE
This item is made on demand and may take up to 7-10 extra business days to ship out.