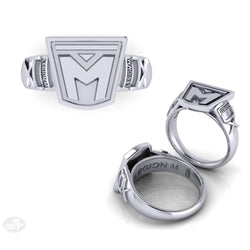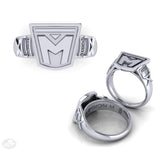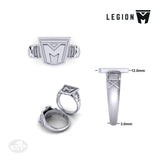 LEGION M - Dainty Silver Ring
From our friends at What's Your Passion Jewelry, we are proud to bring the Legion a second Limited Edition Legion M Ring in Sterling Silver. What's Your Passion has crafted this ring by working closely with the Legion M leadership team to create a piece of jewelry that truly captures what Legion M stands for. This piece is made from sterling silver and finished with a layer of rhodium to help prevent tarnishing. The ring is then hand-finished by the WYP skilled artisans and all made in the USA. Compared to the original design, this ring is dainty and elegant with clean lines and a director's chair silhouette for the band of the ring. Look closely, "I AM LEGION M" is etched into the inside of this beautiful piece.
Each ring is custom made to order. If you don't already know your ring size, use the ring sizer image guide for guidance. This ring will only be available for a limited time, so get yours while you can!

EVERY RING IS MADE TO ORDER - Please allow 6 - 8 weeks for delivery