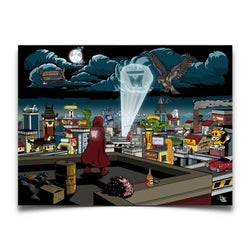 LEGION M - Spotlight Poster
Our most creative Legion M design to date! This Legion M complication art has a TON of easter eggs within the whole piece that will have you saying "Ah, Ha!". A fun nod to our films and in development projects thus far in this spotlight comic scene. 
Artwork designed by your fellow Legion M Investor, Ben Lee.
36" x 24" size, 100lb paper print