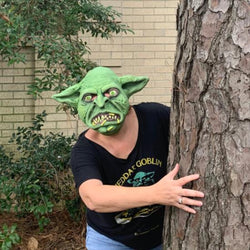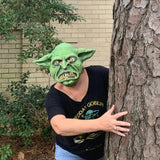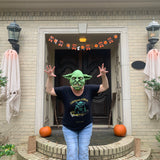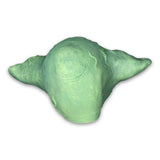 MANDY - Cheddar Goblin Halloween Mask
Nothing's better than cheddar! Cheddar Goblin! Cheddar Goblin!
Bring home the ultimate Cheddar Goblin Mask to wear for the cheesiest Halloween costume, keep it as a collector's item, or to wear at a fancy dinner party. (JK, kinda.) Straight from the cult classic horror film Mandy, this is a full overhead mask that is comfortable and easy to wear. Great for use for Trick or Treating, Home Haunts, Haunted Houses, or any party! Could this also be Yoda's evil macaroni eating twin brother…quite possibly! Hand sculpted, poured and painted in the USA by Zagone Studios.
Dimensions: Ear to Ear = 16; Jowl to top of head = 10"; Nose to back of head = 10"
Weight: 11oz Mask alone
Size: One Size Fits Most
Material: Natural Latex Compound
Care instructions: Hand Wash Latex Masks with Diluted Mild Soap by Lightly Dabbing. Gently Dab with A Clean Wet Rag to Rinse Clean. Do Not Use Oil Based Make-up, Removers and Creams as it will shorten the life of the Latex. Non-oil Based Make-up should be fine.
USE DISCOUNT CODE GOBBLINGOOD TO GET 60% OFF THE MASK