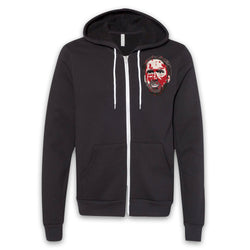 MANDY - Red Miller Bloody Head - Pocket Print Zip-Up Hoodie
In the cult classic film MANDY we take a wild ride with Red Miller, portrayed by Nic Cage. This zip-up hoodie features an animated stylization of Red Miller's blood stained face printed in in the pocket area. 100% cotton, standard sizing, super comfy with front pockets on both sides, black colorway, pocket logo print, unisex zip-up hoodie.
100% OFFICIALLY LICENSED & APPROVED BY NICOLAS CAGE
This item is made on demand and may take up to 7-10 extra business days to ship out.