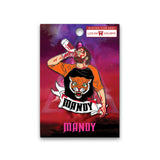 MANDY - Red Miller Rager Pin
From the iconic bathroom rager scene in the cult classic film MANDY, Red Miller has just been through hell - but soon he will bring hell to those that wronged him. Collect this pin with an animated stylization of Red Miller's bathroom rager scene. 2.5" hard enamel, polished black nickel metal with silk screen finish.
100% OFFICIALLY LICENSED & APPROVED BY NICOLAS CAGE.