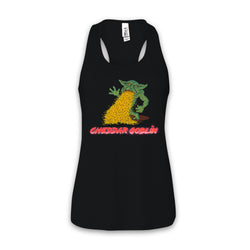 MANDY - Cheddar Goblin Metal - Women's Tank
Inspired by one of the most metal scenes in film, fan artist Zack Wallenfang created this fantastic piece featuring the Cheddar Goblin in his classic form of throwing up macaroni and cheese. Inspired by the classic scene from the cult classic film MANDY when Red Miller watches the Cheddar Goblin Macaroni & Cheese commercial, foreshadowing his immanent revenge. Art was used with permission from artist Zack Wallenfang. Available in black colorways, 100% cotton, women's racerback tank.
This item is made on demand and may take up to 7-10 extra business days to ship out.