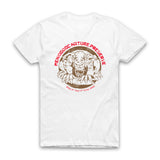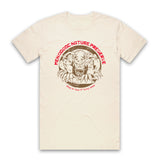 THE EMPEROR'S BLADES - Menkiddoc Nature Preserve Tee
This is one place where you're gonna want to stay in the f**king jeep. Grab your souvenir tee from the Menkiddoc Nature Preserve... if you survived. Inspired by the incredible fantasy series, Chronicle of the Unhewn Throne, Legion M is in development to bring this story to life on the screen. Heather fabric, 100% soft ring-spun cotton, white or natural colorway, unisex crewneck style t-shirt.
This item is made on demand and may take up to 7-10 extra business days to ship out.