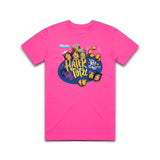 JAY & SILENT BOB REBOOT - Hater Totz Tee
From one of our favorite scenes in Jay & Silent Bob Reboot, here is your very own Hater Totz logo t-shirt! This whole scene was hilarious, and we wish this product was a real thing. Available in black, teal, and pink color t-shirts. 100% cotton, unisex crew neck style.
This item is made on demand andåÊmayåÊtake a few extra business days to ship out.