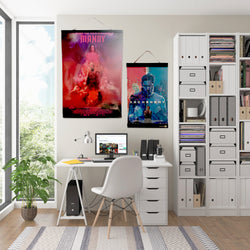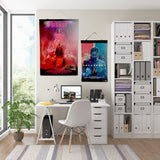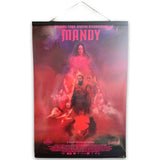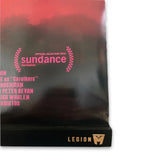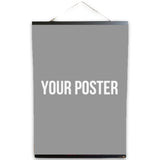 LEGION M - Hanging Poster Frame - 27 inch
Need a great way to hang your movie posters? We've got you covered! This 27" poster frame has 4 pieces, two for the top and two for the bottom, that magnetize together to beautifully hang your posters. It comes with a sturdy string on the top for hanging, and the bottom is engraved with the Legion M logo.
This 27" hanging frame is FREE with a purchase of a One Sheet Movie Poster! Be sure to add any one sheet movie poster (MANDY, ARCHENEMY, SAVE YOURSELVES!) to your cart along with this frame and then click checkout to activate the special offer.
How To Assemble: Simply lay your poster flat on the floor or table. Then put the stringed top bar behind the top of the poster, aligning it with the poster's edge as best as you can. Then take the other top side and place it on top of the poster starting from one end lining it up and going along to the other end. You will feel the magnets working as you place them together. Do the same thing on the bottom and then hang it up!