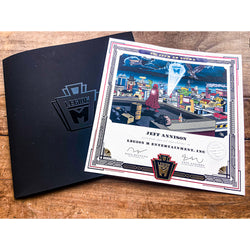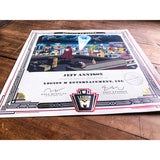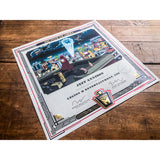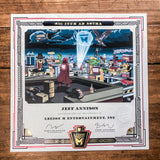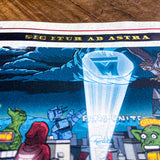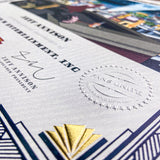 LEGION M - Investor Certificate (Personalized) -- PRE-ORDER
Premium Legion M Collectible Investor Certificates are here! 
Inspired by the designs of the Art Deco movement and the Golden Age of Hollywood, these 12" x 12" commemorative Legion shareholders certificates are printed on high quality 100% cotton paper (they feel like money!) and are the perfect way to showcase your investment in the World's First Fan-Owned Entertainment Company. 
Personalized with your name filled in below
Limited edition print of the "Legion M Spotlight" artwork, showcasing the first 5 years of Legion M projects. Once this print run is complete, we will not release a collectible certificate with this artwork again.
Multi-color (red, gold, and black) registered foil embossings and debossings
Blind emboss of the Legion M Seal
Each 12" x 12" certificates arrives protected in a black on black soft touch folder with LuxFX spot UV Legion M print
ONLY AVAILABLE FOR PRE-ORDER EXTENDED TO MAY 31ST.
Please note that character limit on the Personal Name is a maximum of 21 characters - anything more than 21 characters will cause the font size to be reduced. These certificates are intended for display only, and cannot be used to verify or transfer ownership. Personalized names are non-refundable.
Shipping Update 6/28: we are still waiting for the completed certificates to arrive at our warehouse and now expect it will be August, before they will ship out.