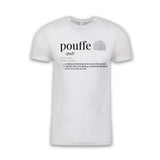 Save Yourselves! - Pouffe Definition Tee
What is a Pouffe? A trendy piece of furniture or a deadly alien, of course! Help educate others with this Pouffe definition tee from the feature film SAVE YOURSELVES! Unisex cut, comes in white body color.
This item is made on demand andåÊmayåÊtake up to 7-10 extra business days to ship out.
åÊ