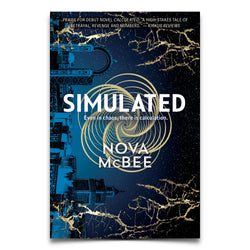 SIMULATED: A CALCULATED NOVEL - Hardcover Signed by Author Nova McBee
Legion M's newest project announcement, Calculated, is here! Grab your very own copy of the books SIGNED by author Nova McBee. Simulated is the second novel in the series.
Jo Rivers, safely back in Seattle, asks the same question daily - how does a math genius go from taking down international criminals and saving the world economy to living a normal teenage life? The only answer she can come up with is-she doesn't. With an overprotective father on her back and Kai on the other side of the world, Jo accepts an offer from Prodigy Stealth Solutions (PSS), who may have found a way to get her gift back. Using a newly developed technology, PSS tries a simulation process on Jo to restore her abilities, but during the attempt, PSS is hacked and a blacklist file containing some of PSS's most sensitive secrets is stolen. Meanwhile, a mysterious caller who seems to know more than he should delivers a warning to Jo about Kai, who then goes missing. Despite her father's concerns, Jo sets off on a risky trip to Tunisia with a PSS team of teen prodigies to find an urgently needed solution for PSS and locate Kai. All the while, Jo has to trust the mysterious informant who, frighteningly, is like no one she has ever met before.
"Simulated has all the Mission Impossible action you could hope for, paired with a love triangle that rivals the intensity of Twilight's. Be prepared to choose sides and hold on tight. You're in for one wild ride." - Chelsea Bobulski, author of The Wood and Remember Me.