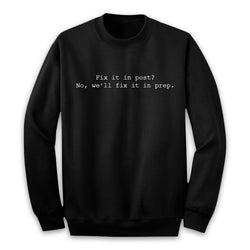 AUTOFOCUS - No We'll Fix It In Prep Pullover Sweater
Fix it in post? No, we'll fix it in prep. These brand new pullover sweaters are made with 100% cotton, standard sizing, in black color sweater, featuring "No we'll fix it in prep" graphic.

This item is made on demand and may take up to 7-10 extra business days to ship out.