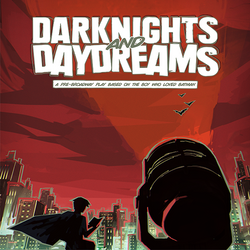 DARKNIGHTS AND DAYDREAMS - LA Reading - July 19th, 6:30pm PT
LIVE LA SCRIPT READING
TIME: MONDAY JULY 19TH, 6:30PM - 830PM PT
LOCATION: TCL CHINESE THEATRE, HOLLYWOOD
Based on Michael Uslan's memoir The Boy Who Loved Batman, Legion M is uniting fans to come along for the ride as we work with Nederlander Worldwide Productions on this new stage play based on Michael's struggles as a blue-collar, nerdy, comic book-loving kid who would someday grow up to acquire the rights to Batman and become one of the most important behind-the-scenes figures in comic book movie history. His wildly inspiring story will delight, entertain, and leave you feeling like you can accomplish ANYTHING.
Join us for a once-in-a-lifetime opportunity to witness the development of a pre-broadway show featuring billion dollar producer Michael Uslan (Executive Producer of the "Batman" franchise) and developed by the amazing team of seasoned Broadway professionals Nederlander Worldwide Productions (Hamilton, Wicked and The Lion King).

These readings are considered an essential part of the stage play development process as the team works the kinks out of the script and "auditions" the show for Broadway theatre owners and investors. Typically these readings are exclusive to industry insiders but Legion M is opening the gates of Hollywood to bring fans along for the ride!