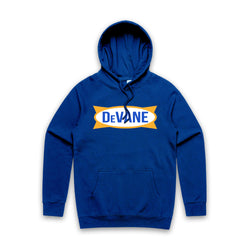 MANDY - DeVane Logo Pullover Hoodie
If you know it, you know it. Now that Legion M has made Cheddar Goblin macaroni and cheese a reality, complete your look by sporting the brand that started it all. From the cult classic film MANDY, grab this hoodie as a real conversation starter. 100% cotton, royal blue, standard sizing, and super comfy with front handwarmer style pockets.
This item is made on demand and may take up to 7-10 extra business days to ship out.