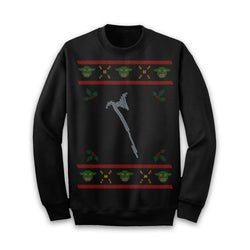 MANDY - Ugly Holiday Sweater
We couldn't help ourselves, we just had to! Introducing the sweater you never knew you needed, the official MANDY movie ugly holiday sweater! Perfect for a social distanced holiday party, conversation starter, taking revenge on a scary country cult, or literally every day of your life. This ugly holiday sweater graphic is complete with Cheddar Goblin heads and The Beast in a knitted pattern, all screen printed. 100% cotton, black pullover sweater, standard sizing.
This item is made on demand and may take up to 7-10 extra business days to ship out.