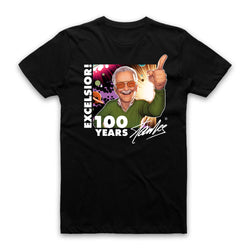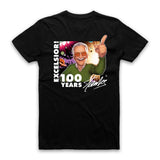 STAN LEE CENTENNIAL - Excelsior! Galaxy Tee
In honor of the legendary Stan Lee's 100th birthday, Legion M brings you The Stan Lee Centennial Collection. This limited-edition apparel collection is released during San Diego Comic-Con and only available while supplies last. Each day between 7/20-7/24 is a new t-shirt drop!

This first drop features a stylized cartoon drawing of Stan Lee himself in front of a galaxy print, his iconic catch phrase "Excelsior!", Stans own signature and "100 years" in honor of the centennial celebration. This is the ONLY tee that will be available throughout the week - ONLY while supplies last! There will be a maximum of 1,000 of these tees made available - ever. Pre-shrunk 100% cotton, black t-shirt color, unisex crew neck style.
Want more than one of these tees (or all 5) but don't want to pay for shipping more than once? WE'VE GOT YOU! Simply make your purchase each day for the t-shirt you want, then at the end of the week email orders@legionm.com with all of your order numbers and ask for combined shipping. We will then combine all of your orders and refund your additional shipping charges.
This item is made on demand and may take up to 7-10 extra business days to ship out. Centennial Collection Tees begin shipping out 7/28.